Peter Manuel: The Beast of Birkenshaw
Courtroom Drama:   Peter Manuel: The Beast of Birkenshaw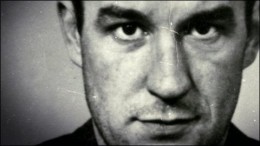 SUN 21ST SEPTEMBER //  12–1PM / 2–3PM / 4–5PM // STIRLING SHERIFF COURT //  £10
Join us for this unique performance of a trial in Stirling's own atmospheric Sheriff Court – where you are the jury.
Peter Manuel: The Beast of Birkenshaw retells the trial of Peter Manuel, one of Scotland's most notorious serial killers who was arrested in 1958 and convicted of 7 murders. Before he was identified and apprehended, the media had branded him 'The Beast of Birkenshaw' and he was a figure of much public contempt  and fascination.
This performance will involve local actors participating by playing judge, witness and barrister in an innovative staging of a story which reached into communities all over Scotland. Based on trial transcripts, this is a unique theatre piece performed in situ and accompanied by live music from the trial's era to recreate the atmosphere of this chilling moment in Scotland's criminal justice history – a serial killer is brought to trial.
Three performances of Peter Manuel: The Beast of Birkenshaw will  take place on Sunday 21st September, at 12pm, 2pm and 4pm.
With Stirling on Stage.
BOOKING INFO: Choose a performance time using the arrows below before booking your tickets. Tickets are valid only for the performance time booked.