McIlvanney Prize Longlist 2016: Splinter the Silence by Val McDermid
'That day, waiting had been almost unbearable. He wanted something more spectacular, something that couldn't be ignored. These deaths needed to make a mark . . .'
Psychological profiler Tony Hill is trained to see patterns, to decode the mysteries of human behaviour, and when he comes across a series of suicides among women tormented by vicious online predators, he begins to wonder if there is more to these tragedies than meets the eye. Similar circumstances, different deaths. Could it be murder? But what kind of serial killer wants his crimes to stay hidden?
Former DCI Carol Jordan has her own demons to confront, but with lives at stake, Tony and Carol begin the hunt for the most dangerous and terrifying kind of killer – someone who has nothing to fear and nothing to lose . . .
---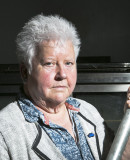 About Val McDermid
Dubbed the Queen of psychological thrillers, Val McDermid has sold over 11 million books to date and is translated into 30 languages. She is perhaps best-known for her Wire in the Blood series, featuring clinical psychologist Dr Tony Hill and DCI Carol Jordan, which was adapted for television starring Robson Green. She has also written two series around private detective Kate Brannigan and journalist Lindsay Gordon, in addition to several award-winning standalone novels and a children's picture book, My Granny is a Pirate.
A regular broadcaster with BBC Radio, Val has written dramas and presented programmes on Radio 4 and was also a huge success on the infamous Desert Island Discs. Val has fronted several features for BBC Two's The Culture Show. She has won countless awards internationally, including the CWA Gold Dagger for best crime novel of the year and the LA Times Book of the Year Award. In 2007, she won The Stonewall Writer of the Year Award and in 2012 Val became a Celebrity Mastermind champion.
Val will appear at the following events: