McIlvanney Prize Longlist 2016: Open Wounds by Douglas Skelton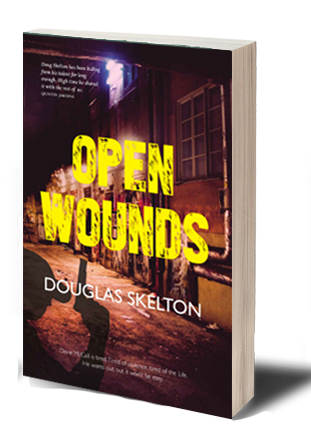 Davie McCall is tired. Tired of violence, tired of the Life. He's always managed to stay detached from the brutal nature of his line of work, but recently he has caught himself enjoying it.
In the final instalment in the Davie McCall series old friends clash and long buried secrets are unearthed as McCall investigates a brutal five-year-old crime. Davie wants out, but the underbelly of Glasgow is all he has ever known.
Will what he learns about his old ally Big Rab McClymont be enough to get him out of the Life? And could the mysterious woman who just moved in upstairs be just what he needs?
---
About Douglas Skelton
Douglas Skelton is a crime writer who specialises in the darker side of things: he's a former journalist who has published eleven books on true crime and criminal history. In 2011 he made the leap to writing crime fiction with a hugely successful series of thrillers featuring Davie McCall, a Glasgow hard man with a heart. The Dead Don't Boogie is his fifth novel and begins a new series.
Douglas will be taking part in the following event: