McIlvanney Prize Longlist 2016: Even Dogs in the Wild by Ian Rankin
Retirement doesn't suit John Rebus. He wasn't made for hobbies, holidays or home improvements. Being a cop is in his blood.
So when DI Siobhan Clarke asks for his help on a case, Rebus doesn't need long to consider his options.
Clarke's been investigating the death of a senior lawyer whose body was found along with a threatening note. On the other side of Edinburgh, Big Ger Cafferty – Rebus's long-time nemesis – has received an identical note and a bullet through his window.
Now it's up to Clarke and Rebus to connect the dots and stop a killer.
---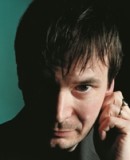 About Ian Rankin
Ian Rankin is the internationally bestselling author of the Inspector Rebus and Detective Malcolm Fox novels, as well as a string of standalone thrillers. His books have been translated into 36 languages and are bestsellers on several continents. Ian is the recipient of four CWA DAGGER AWARDS and, in 2004, won America's celebrated EDGAR AWARD. He is also the recipient of honorary degrees from the universities of Abertay, St Andrews, Hull and Edinburgh and received the OBE for services to literature, opting to receive the prize in his home city of Edinburgh, where he lives with his partner and two sons.
Ian will be appearing at the following event: