McIlvanney Prize Longlist 2016: A Fine House in Trinity by Lesley Kelly
Joseph Staines, an unemployed chef, has left Edinburgh with the tallybook of the late debt collector, Isa Stoddart. Her son Lachie thinks Stainsie killed her, but Lachie has apparently committed suicide. To his surprise, Stainsie is the sole beneficiary of Lachie s will and has inherited a dilapidated mansion.
Isa's debtors and the local priest who paid Stainsie to leave town want him gone. A certain young mum, Marianne (whose uncle, Wheezy, is Stainsie's drinking buddy) does too, and his old school-friend, Detective Sergeant Jamieson, wants to interrogate him about the deaths.
Why are the lawyers lying to him, and who is the bruiser asking about him down the pub?
---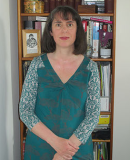 About Lesley Kelly
Lesley Kelly has worked in the public and voluntary sectors for the past twenty years, dabbling in poetry and stand-up comedy along the way. She has won a number of writing competitions, including the Scotsman's Short Story award in 2008. She lives in Edinburgh with her husband and two sons.